About Agni Group
Abuzz with Ideas, Optimism and
Open to Growth
We believe in
Products, Services and Possibilities
Agni began business in 1991 as the authorized distributors of Mahindra utility vehicles and tractors.
Today, Agni is the leading utility vehicles distributor in the country and has been successfully continuing the legacy of the Mahindra brand in Nepal. Ever since being an automobile importer, Agni Group has advanced tirelessly to be the premium seller of automobiles, spares & services and is unrivaled in scale, network and capabilities. Agni has an extensive network comprising of 80 plus dealers and branches across the country. With an unmatched reputation in the automobiles business, Agni is a group of many companies, each a market leader and united by a common purpose to enable people to rise.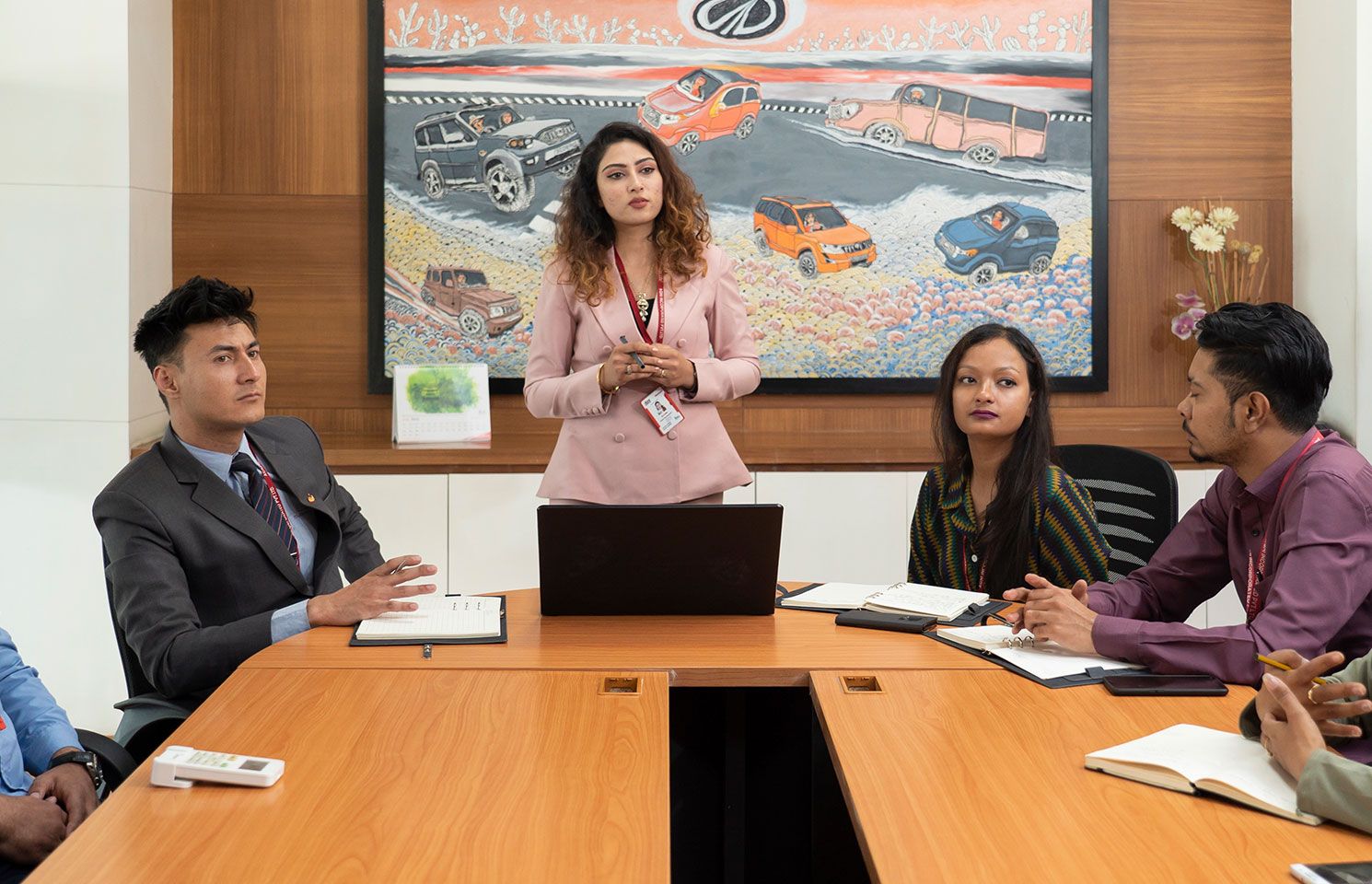 Empower, Enrich, Develop
Continue to be a trail blazer as Nepal's most reliable moving force by empowering people with opportunities, enriching lives and developing the country through affordable mobility.
Front-ranker, breaking new ground.
To keep leading by scanning the road ahead before others and convert apparent roadblocks into opportunities.
---
To be a growing change agent and help build a more productive and accessible society in Nepal.
---
To keep winning admiration for being a role model in fair business practices.
Core Values
Calibre- our cutting edge mentality that keeps getting sharper on the job
Zeal

Our adrenaline-charged kinetic energy

Calibre

Our cutting-edge, mentality that keeps getting sharper on the job

Customer Delight

We are always pushing the limits to be the industry benchmark

Positivity

Abuzz with ideas, optimism and open to growth, based on meritocracy

Honesty

Fair business practitioners
Follows right corporate governance norms
Employee-friendly work environment

Proud, Hungry and Driven
Our culture is clean and unblemished, like fire. Pure, vibrant, viral: Agni. It is the power of 5000 minds, alive with the flame within.
Since our inception in 1991, as automobile importers, Agni have advanced tirelessly to be the premier seller of automobiles, spares and service. It is unrivalled in scale, network and capability. What began as a spark of enterprise among our intrepid founders, was soon fanned to flames by the growing ambition of the organisation. "Flame within" best describes our culture that has developed over the years and has been embraced by all. It is the ceaseless burn that rises, leaps and forays forward, hungry for any challenge. It's what gives our mission momentum.
Commanding. Confident. Bright. Impressive. Warm.
Agni, personified, is a dynamic human being. Unstoppably spirited, Agni is always on the move. Self-driven and surveying the road for new opportunities, exploring the unexplored.
While knowing the way around, Agni is not averse to taking the road less travelled, in search of yet another challenge around the bend. A professional who thinks on the feet, commands respect, works with confidence, expertise and looks for out-of-the box solutions.

Agni is tech- savvy, up-to-speed, enjoys work and likes unwinding in the after-hours with family or friends. The bold, arresting visual language of the new logo, inspires and fuels the entire team.

"My association with Agni Group goes long back 2006-7 as a brand ambassador in which we share a very healthy relationship as everyone maintained the professional and personal balance."

Paras Khadka - Captain, Nepalese Cricket Team

"I am very pleased and thankful to Agni group for providing me an opportunity to be associated with the company as Brand Ambassador. This is also the reason why I dreamt about owing my own electric vehicle learning about its benefit to environment."

Shrinkhala Khatiwada - Former Miss Nepal (2018)

"I have been driving Scorpio since last four years and I personally like the behavior and the prompt service Agni group provide since its difficult for me to manage time from my busy schedule. "

Hari Bansha Acharya- Actor, Author, Social Worker

"My relationship with Agni group has always been good since Agni group maintain special relationship with all its customer. I own Mahindra Reva electric vehicle since the time of its launching and I am very satisfied with its performance and service."

Dr. Sudha Basnet- MD.PhD, Professor(TU, Department of pediatrics)